Overview
Tidal Rising is a program that offers artists a range of opportunities such as featuring their music on the Tidal home page, including their tracks in playlists, and promoting their music on social media. The program also provides young performers access to experienced music industry professionals and career advice.
For this project, I worked with the TIDAL team as a design consultant to revamp their TIDAL Rising and TIDAL Artist Home - a hub where artists can add a profile image, bio, and social links.
My role
I worked on this project as a design consultant. I provided recommendations for improving the website's design and functionality. 

Timeline
I had 3 days to complete this project.

Getting started
I started off the project by speaking with the TIDAL team to better understand their needs and set goals for the outcome. I gathered information about their target audience, mission, and overall vision. I reviewed their decks, videos, and other documents to help me get all the context I needed. 

This is what the TIDAL rising homepage looked like when I was given the project:
Competitive analysis
I audited competitor streaming services to identify areas of design opportunities and understand industry standards. I conducted an analysis on Spotify, Apple Music, Pandora, and Amazon Music. View the analysis below:
Based on the analysis, I provided a list of information that should be included in the TIDAL Rising and TIDAL Artist Home websites: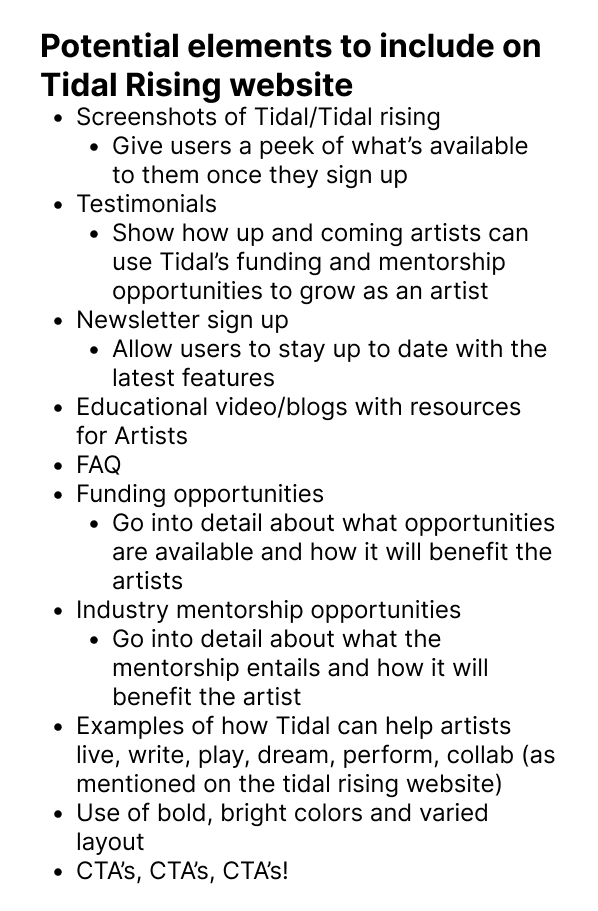 Wireframing 
I presented to the team 3 options for TIDAL Rising and 3 additional options that combine both TIDAL Rising and Artist Home.
Hi-fidelity
The team decided that they liked section 1: option 2 the best. I designed a high-fidelity version so that the team could get a better idea of how it would look when live.
Conclusion
If I had more time to work on this project, I would have liked to speak more with the marketing and design team to better understand their visual style. But overall, I had a great time working on this project and getting to work with the team.